Assalamualaikum semua ;)
chill, chill.. i know all of u were excited and same goes to me ! cant wait to see this movie.. oh my.. really really cant wait ! thanks to
Oh Bulan
for spreading to us this superb news.. for those who not familiar with this kind of movie, let me give a brief of this movie..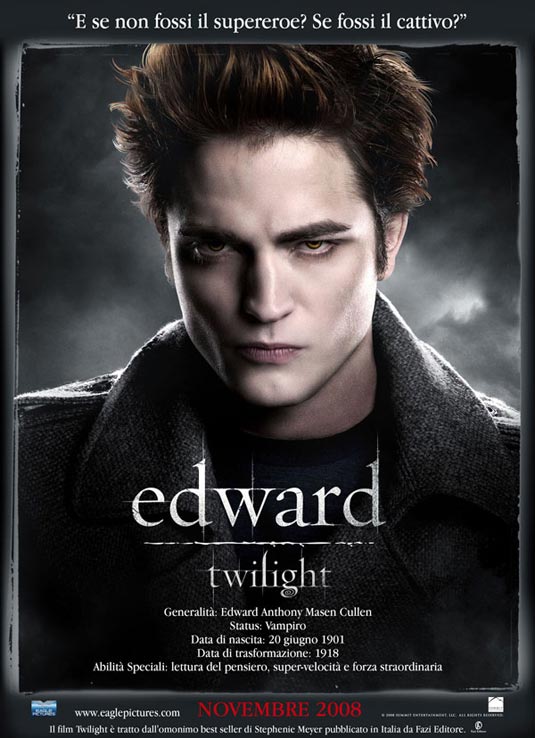 robert pattinson as edward cullen
taylor lautner as jacob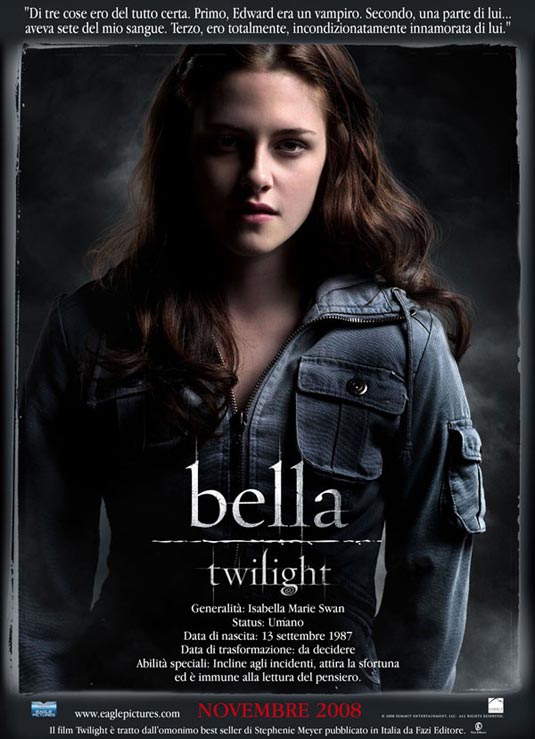 kristen steward as bella
Plot of the story : Twilight
Seventeen-year-old
Isabella "Bella" Swan
moves to
Forks
, a small town near the
Washington
coast, to live with her father, Charlie, after her mother remarries to a minor league baseball player. She is quickly befriended by many students at her new high school, but she is intrigued by the mysterious and aloof Cullen siblings. Bella sits next to
Edward Cullen
in
biology
class on her first day of school; he appears to be disgusted by her, much to Bella's confusion. A few days later, Bella is nearly struck by a van in the school parking lot. Edward inexplicably moves from several feet away and stops the vehicle with his hand without any harm to himself or Bella. He later refuses to explain this act to Bella and warns her against befriending him.After much research, Bella eventually discovers that Edward is a vampire, though he only consumes animal blood. The pair fall in love and Edward introduces Bella to his vampire family,
Carlisle
,
Esme
,
Alice
,
Jasper
,
Emmett
, and
Rosalie
. Soon after, three nomadic vampires—
James
,
Victoria
, and
Laurent
—arrive. James, a tracker vampire, is intrigued by Edward's protectiveness over a human and wants to hunt Bella for sport. Edward and his family risk their lives to protect her, but James tracks Bella to
Phoenix
where she is hiding and lures her into a trap by claiming he is holding her mother hostage. James attacks Bella and bites her wrist, but Edward, along with the other Cullen family members, arrives before he can kill her. James is destroyed, and Edward sucks James's venom from Bella's wrist, preventing her from becoming a vampire. A severely injured Bella is taken to a hospital. Upon returning to Forks, Bella and Edward attend their school prom. While there, Bella expresses her desire to become a vampire, which Edward refuses. The film ends with Victoria secretly watching the pair dancing, plotting revenge for her lover James' murder.
p/s : i give 4 1/2 for this movie, and the music was super superb ;)
so,the second movie of Twilight is Twilight saga : New Moon

After Bella recovers from the vampire attack that almost claimed her life, she looks to celebrate her birthday with Edward and his family. However, a minor accident during the festivities results in Bella's blood being shed, a sight that proves too intense for the Cullens, who decide to leave the town of Forks, Washington for Bella and Edward's sake. Initially heartbroken, Bella finds a form of comfort in reckless living, as well as an even-closer friendship with Jacob Black. Danger in different forms awaits.
Bella Swan is still very much in love with vampire, Edward Cullen. The rest of the vampire coven who call themselves the Cullens, especially Alice, decide to throw Bella a private party for her eighteenth birthday. Things go wrong when Bella slices her finger and thirst overcomes the vampires. As a result of the danger Bella was put through, the Cullen family decide to leave Forks, Washington. At first Bella exempts herself from all social activities, until she realizes she can coexist with childhood friend, Jacob Black. As usual for Bella, things aren't what they seem. Something is happening to Jacob that he can't explain to Bella, and their friendship starts to deteriorate. But when someone from Bella's past comes back to haunt her, everything will change again.
p/s: in this movie, jacob were so n so n so handsome :))) 4 stars bebeh
it continue with Twilight : Eclipse

Bella once again finds herself surrounded by danger as Seattle is ravaged by a string of mysterious killings and a malicious vampire continues her quest for revenge. In the midst of it all, she is forced to choose between her love for Edward and her friendship with Jacob -- knowing that her decision has the potential to ignite the struggle between vampire and werewolf. With her graduation quickly approaching, Bella is confronted with the most important decision of her life.
p/s: 4 1/2 stars too !
AND NOW, HERE COMES THE BREAKING DAWN !
"Bella and Edward are finally together: following their wedding they go in honeymoon to an island off the coast of Brazil. Over there Bella, still a human, got pregnant from her husband Edward, who is a vampire.
The crossbreed child to be born is cause of concern even before her birth: the werewolves feel the child could be a threat to them (putting Jacob , and even the vampires aren't really at ease...
During childbirth Bella loses so much blood that she is on the verge of death. But Edward must fulfill his promise to make his wife Bella into a vampire in order to save her.
Will Edward and Bella be able to save their daughter?"
i dont know the exactly date for this premier in Malaysia,but other countries can see this movie starting November 18.. hope there will be tayangan serentak..huhu.. and part two of this Breaking down will be release on November 2012.. i think i gonna buy Breaking Down Book.. i cant wait till November 2012..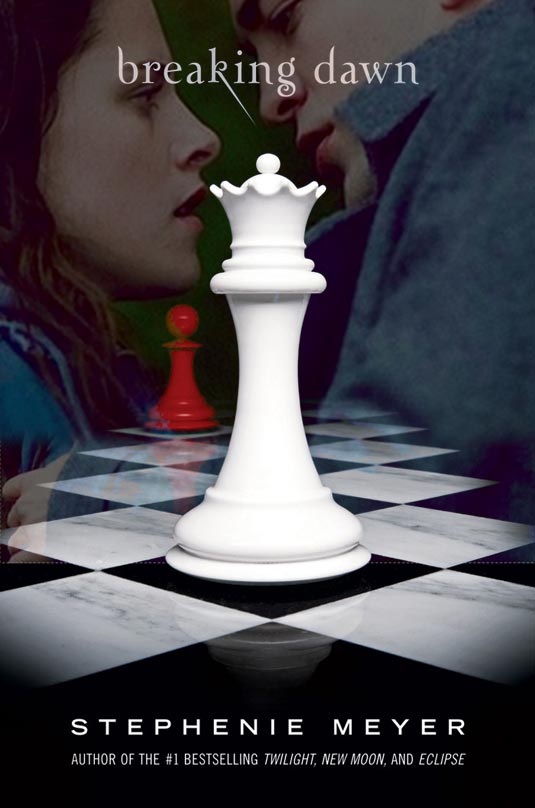 till then, BUI BUI

sumber lain : Google

---
bace jek? komen lah cikit, dont shy-shy cat ;P
---